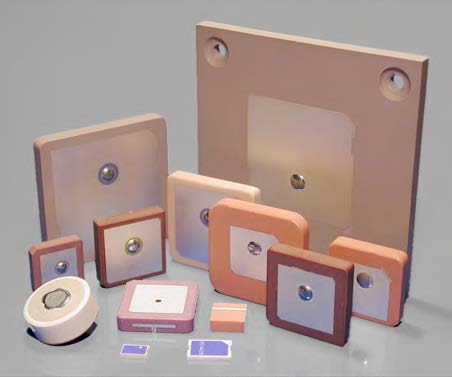 Dielectric Patch Antennas
Rectangular microstrip designed patch antennas have excellent stability and sensitivity through the use of high-performance, proprietary dielectric materials with strict dimensional accuracy, dielectric constant and temperature stability.
MCV's dielectric antennas are compact, high performance, reliable, RoHS compliant and cost competitive. MCV offers patch antennas in various sizes for GPS and Wireless LAN applications.
| wdt_ID | Part Number | Dimensions mm | Frequency Range MHz | Center Frequency | Bandwidth at <-10dBReturn Loss | Gain at zenith | Gain at 10o elevation | Impedance | Axial ratio | Dielectic Constant | Quality Factor | Tf (-40C to + 80C) |
| --- | --- | --- | --- | --- | --- | --- | --- | --- | --- | --- | --- | --- |
| 1 | MA1204XXP | 12 x 12 x 4 (LxWxH) | 1596 - 1614 | 1605±3MHz | | +0 typical dBi @1605MHz | -8 typical dBi @1605MHz | 50Ω | 3 max dB | 90±2.5 | ≥5000@9GHz | 0±20ppm/˚C |
| 2 | MA1206XXP | 12x12x6 | 1596 - 1614 | 1605±3MHz | | +1 typical dBi @1605MHz | -7 typical dBi @1605MHz | 50Ω | 3 max dB @1605MHz | 90±2.5 | ≥5000@9GHz | 0±20ppm/˚C |
| 3 | MA1504XXP | 15x15x4 | 1576-1595 | 1585±3MHz | | +1 typical dBi @1585MHz | -7 typical dBi @1585MHz | 50Ω | 3 max dB @1585MHz | 65±2.5 | ≥5000@9GHz | 0±20ppm/˚C |
| 4 | MA1802XXP | 18x18x2 | 1576-1595 | 1585±3MHz | | +1 typical dBi @1580MHz | -5.5 typical dBi @1580MHz | 50Ω | 3 max dB @1580MHz | 37±2.5 | ≥5000@9GHz | 0±20ppm/˚C |
| 5 | MA1804XXP | 18x18x4 | 1576-1596 | 1585±3MHz | | +3.5 typical dBi @1580MHz | -4 typical dBi @1580MHz | 50Ω | 3 max dB @1580MHz | 37±2.5 | ≥5000@9GHz | 0±20ppm/˚C |
| 6 | MA2502XXP | 25x25x2 | 1576-1596 | 1585±3MHz | | +9 typical dBi @1580MHz | +4.5 typical dBi @1580MHz | 50Ω | 3 max dB @1580MHz | 20±2.5 | ≥5000@9GHz | 0±20ppm/˚C |
| 7 | MA2504XXP | 25x25x4 | 1576-1596 | 1585±3MHz | | +9 typical dBi @1580MHz | +5 typical dBi @1580MHz | 50Ω | 3 max dB @1580MHz | 20±2.5 | ≥5000@9GHz | 0±20ppm/˚C |
| | Part Number | Dimensions mm | Frequency Range MHz | Center Frequency | Bandwidth at <-10dBReturn Loss | Gain at zenith | Gain at 10o elevation | Impedance | Axial ratio | Dielectic Constant | Quality Factor | Tf (-40C to + 80C) |